Woodhouse Chevrolet Commercial Vehicle Recap
Sometimes life requires heavy lifting whether equipment, supplies, or people. That's where Chevy commercial vehicles come in handy. Whether you're looking for a Chevrolet Cargo Van or a sturdy Chevrolet truck, our dealership has a vehicle that can help you with heavy loads. Come into Woodhouse Chevrolet today to get a better look and set up a test drive with one of the commercial vehicles in our lot!
Chevy Silverado 1500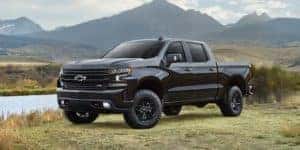 You're pretty much guaranteed strength and reliability with the Chevy Silverado 1500. This commercial truck offers up to 420 horsepower and 460 lb-ft of torque. It also has a max available payload of 2,280 and a max available trailering weight of up to 13,300 pounds so that you can take everything you could ever need on a big haul.
For even more space, the long bed models of the Chevy Silverado 1500 give a maximum available cargo of 89.1 cubic feet. The size of the truck strikes a perfect balance between heft and maneuverability. You'll be able to transport loads big and small in this tough pickup.
Chevy Silverado 2500 HD
Let's be honest, towing capabilities and power are two of the most important aspects of the Chevy Silverado 2500 HD. This model's available engines offer horsepower up to 445 and 910 lb-ft of torque with a maximum payload of 7,442 pounds and a maximum available trailering rate of 36,000 pounds.
The long bed models offer just a little less space than the Chevy Silverado 1500 rounding out at 83.5 cubic feet. That said, you'll still never have to compromise on what to keep and what stays behind when moving large loads.
Once you're ready to use one of the commercial vehicles Woodhouse Chevrolet has to offer, our dealership can help you figure out Chevy financing. We'll work with your budget to set up a payment plan that's right for you. Our doors are always open to any further questions about our vehicles or the purchasing process.