Need Your Chevy Vehicle's Tires Serviced? Don't Settle for Second-Best – Trust Woodhouse Chevrolet
Woodhouse Chevrolet offers a variety of services to help keep your Chevy vehicle running great, and one of the most important is tire service. Our factory trained technicians know everything about Chevy tires near Omaha, NE and we're experts at servicing, maintaining, and replacing them when the time is right.  
Why Tire Service is Important 
As your preferred "Chevrolet dealer near me", you can count on us to maintain your car for as long as you own it. Over that span of time, the tires will absorb more daily wear and tear than any other car part.  
While the quality and durability of automobile tires has increased significantly over the years, they still require timely care in order to avoid serious problems. For example, poorly pressurized tires could lead to irregular wear patterns that compromise your Chevy car's performance.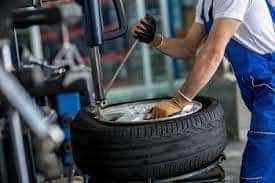 And if you wait too long to replace your tires at our auto parts store, you might be faced with excessive tread-wear that jeopardizes your car's fuel economy, handling, and safety.  
Types of Tire Service We Offer 
When you bring your Chevy truck or SUV in for regular maintenance, our nearby Chevy service team will also inspect your tires for damage and confirm they're inflated to the correct pressure. And if your car is due for a tire rotation, which we recommend doing every 6,000 – 8,000 miles, we'll take care of that too.  
A tire rotation is a quite common, straightforward procedure that we perform dozens of time daily at Woodhouse Chevrolet. It's a simple matter of removing all four tires from the wheels and then moving (or rotating) each tire to a different wheel. This helps ensure that you tires wear evenly.  
Visit Our Chevy Tire Center Today 
All of our new cars and used trucks for sale require regular tire service in order to consistently deliver the high level of efficiency and performance that Chevy automobiles are known for. From tire inspections and rotations to new-tire installation, our nearby Chevy dealership is the one to call.