Let's Chat About Chevy Silverado Cabin Options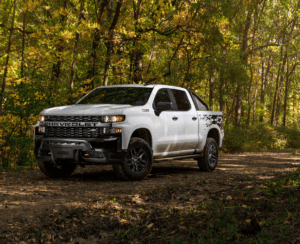 The Chevy Silverado crew cab for sale at our Chevrolet dealership is a solid option for many drivers. However, the choices don't end there. We have two other cabin options that may fit your needs better depending on how much space you need and how many passengers will be riding with you. Let's break it down in detail so you can determine your best bet.
The Regular Cab
Our smallest cab offering, the Regular cab is the default choice for single drivers looking for simplicity. It does not include rear seats and is designed for just three people. It comes with a long truck bed for lots of easy cargo hauling as well.
The Chevy Silverado Crew Cab for Sale
This cab option is probably our most popular, especially on the Chevy Silverado 2500. The Crew cab has the most amount of passenger room with the second row of seating making space for up to six. It comes with either a short or standard bed length depending on whatever you prefer.
The Double Cab
The final cab option, the Double cab Chevy Silverado, has less rear passenger room and comes with a standard bed length. It's a happy medium between the other two in size and price.
Come see us at Woodhouse Chevy to determine which cab type is ideal for your next new vehicle. There are many other ways to customize your Chevy truck from trim and features to engine and powertrain specifications. We look forward to chatting with you about your daily driving habits and any goals you have for the purchase of your next Chevy vehicle.