How to Access Wireless Charging in Chevy Vehicles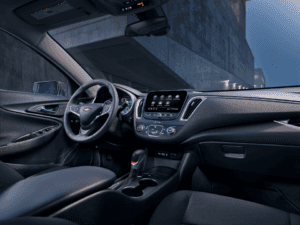 If you have the GM wireless charger upgrade in your new Chevy vehicle, you are well on your way towards a safe, convenient drive. Before you get on the road, though, let's go over how to use this futuristic feature that has eliminated the need for messy cords, plugs, and clutter that can be distracting during your drive.
About Wireless Phone Charging
This concept allows for a driver or passenger to rest their phone on a charging pad or pocket located in the cabin of the vehicle so that it can charge while the vehicle is running. Depending on the type of phone you have, this could be the easiest way to keep the battery full during your daily commute.
Plus, you can use the hands-free connectivity features in your Chevy vehicle to access your phone while it charges.
How to Use Wireless Charging in a Chevy Car
Make sure your phone is compatible with wireless charging.
Remove all objects, especially metal or magnetic objects and credit cards, from the charging pad or pocket area.
Place your phone face-up on the symbol molded into the charging pad or pocket.
Move the mobile device slowly until a charging icon displays on the infotainment system's display screen.
Wait ten seconds to ensure the connection is stable. If it does not appear to be charging, try again with the phone rotated in the other direction.
Wireless phone charging isn't standard in every model…yet. If you're not sure if your vehicle comes with the wireless phone charging feature or not, we'd be happy to take a look at Woodhouse Chevrolet. If you're in the area, just search "Chevy dealer near me" to find us.