Four-Wheel-Drive Trucks for Sale at Woodhouse Chevrolet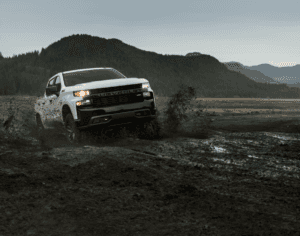 Drivers searching for a "Four-wheel-drive truck for sale" can find plenty of options at Woodhouse Chevrolet. Whether you plan on off-roading, towing heavy items, or just having extra stability when encountering winter weather, four-wheel-drive could really come in handy in your next truck or SUV. We'd be happy to show you our selection here in Omaha and help you make an informed decision.
Our Four-Wheel-Drive Trucks for Sale
Many Chevrolet models are available in four-wheel-drive in addition to other drivetrains. Four-wheel-drive allows for more traction on the road and more even power distribution with each wheel working in unison to accelerate. This matches perfectly with the hallmark tough and reliable performance drivers expect from Chevy vehicles.
Some of our most popular four-wheel-drive trucks include:
Chevrolet Colorado
Chevrolet Silverado 2500
Chevrolet Silverado 3500
We also have a number of family vehicles and SUVs that come in four-wheel-drive, too:
Chevrolet Trax
Chevrolet Equinox
Chevrolet Traverse
Chevrolet Tahoe
Chevrolet Suburban
Benefits of Four-Wheel-Drive
Four-wheel-drive, also known as four-by-four or 4×4, means power goes directly to all four wheels. This can be handy when you need additional torque or power for hauling heavy items at slow speeds or over steep inclines and declines.
Four-wheel-drive also makes for better driving on:
Some models have a four-wheel-drive that is engaged all of the time and others have optional four-wheel-drive systems that can be engaged or disengaged as needed.
Buying a Four-Wheel-Drive Truck in Omaha
When you're ready to take a four-wheel-drive test drive, come see us at your local Chevy dealership. We look forward to reviewing all of the details with you.