Everything You Need to Know About Android Auto™ and Apple CarPlay® Wireless Projection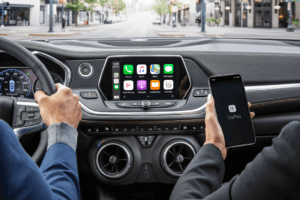 Whether you're team iPhone or team Android, new Chevy cars have what it takes to help you stay connected. On some models, that's via USB, but with many, it's an entirely wireless experience. You can stay entertained while minimizing distractions for yourself and other drivers on the road. We hope you consider Android Auto™ wireless projection for your next vehicle at Woodhouse Chevrolet.
Music
Apple CarPlay® and Android Auto™ wireless projection allow drivers to access all of their favorite music, podcasts, and other entertainment via the compatible apps they already use on their smartphones.
Forget fumbling around with tech or losing signal on radio stations – it's all there on your everyday device played over your car's speaker system and synced with the visual interface.
Calling & Texting
With transcription technology, you can send audio messages and texts, as well as make calls – all hands-free. Apple CarPlay® uses Siri to conduct these processes, while Android Auto™ uses Google Assistant to activate all of your must-have features.
Navigation
While one uses Apple Maps and the other Google Maps, both systems include navigation. Voice control, real-time traffic information, and turn-by-turn directions can all be at your disposal even if your car itself doesn't have a built-in navigation system.
Other Features
Apple CarPlay® also gives the option for new digital car keys for unlocking and starting your car from your iPhone. It lets you share your keys with friends or family. With iOS 14, you can also set custom wallpapers for your CarPlay Dashboard.
These features are even available in quite a few of our Woodhouse used cars. Use the search tools on our website to view our current selection or come by our Chevy dealership when you're ready to see these features in action.