Choose Woodhouse for Your Chevy Oil Service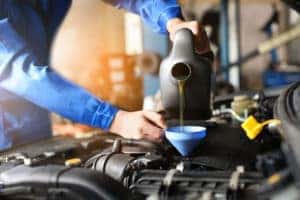 When you choose Woodhouse Chevrolet for your next Chevy oil change, you are choosing a headache-free car care experience.
Getting an oil change may seem tedious, but they are a super important part of proper car care. If you ignore your Chevy vehicle's needs, you are making your vehicle susceptible to a multitude of problems. For example, if you neglect your oil changes for long enough, you can cause total engine failure, putting your vehicle and your safety at risk.
Chevy Oil Service and Beyond
If you need an oil change or other Chevy vehicle service, you can schedule your appointment with Woodhouse Chevrolet. We have a team of professional service technicians who will not only complete your oil change promptly but will also conduct a full inspection to make sure that your Chevy vehicle is running properly.
When you come in for your Chevy oil service, the following components will also be carefully examined:
Tire wear
Wiper blades and glass condition
Fluid levels
Brakes
Battery condition and connection
Remaining engine oil life
Additional critical vehicle information
The Right Oil for Your Chevy Oil Service
When you are choosing oil at your Chevy oil service appointment, make sure that you know just what you are putting into your Chevy vehicle.
ACDelco Gold Conventional Oils helps prevent corrosion and contains additives to help your engine run efficiently. ACDelco Dexos1® Full Synthetic Oil offers high resistance to oxidation and also has excellent low-temperature flow when starting your vehicle in cold weather. It can also prevent sludge from building up.
There is Mobil 1 Full Synthetic Oil as well, which has advanced anti-wear technology, prevents build-up, and works effectively in cold temperatures.
Get the right oil change for you at Woodhouse Chevy today!