Chevy Truck Floor Mat Options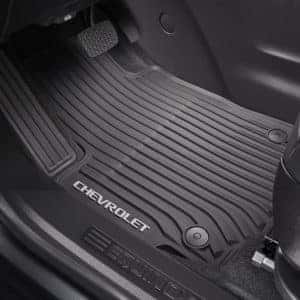 At Woodhouse Chevrolet Buick, we think you deserve a truck that's as tough as you are, that's not afraid of getting dirty. That's why we make sure that you know your options for Chevy truck floor mats so that you can pick the right ones for your needs.
Stock Floor Mats
The stock ones that will come with your Chevy truck are nice as they were made specifically for your truck, but they sometimes lack some of the features and flair of the competitors. Although you typically can get color options, you won't be able to take advantage of the comfort and texture options you can get elsewhere.
Rugged Ridge Floor Mats
These mats have specialized areas for any liquid to flow to for easy cleaning. They will also keep any dirt and grime from seeping beneath into the carpet.
All-Weather Floor Mats
These are specifically designed for each vehicle, so you know they will conform perfectly to your truck. They also come in various color options so you can pick the right ones for your ride. They're surprisingly lightweight, so it isn't a chore to take them out and shake them off.
Husky Liners X-Act Contour Floor Liners
Hear us out: these are pretty cool. The Husky Liners X-Act Contour Floor Liners keep liquid and debris from getting into your carpet and ruining your interior. However, they are going to do this while also being soft to the touch. Learn how you can get them in your Chevy truck at Woodhouse Chevrolet Buick.