Chevrolet Projection and Heads-Up Display System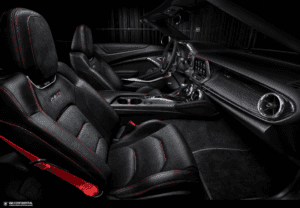 Using Chevrolet projection by connecting to your vehicle's heads-up display can be confusing to say the least. At Woodhouse Chevrolet Buick, we can help you navigate your Chevrolet tech systems, so you can make sure that you are getting the most out of your Chevy vehicles.
What is Chevrolet projection technology?
Chevrolet projection is also known as the heads-up display, and it's available in several Chevy vehicles. This is a tool that allows you to display information about your vehicle such as your fuel range and speed directly on your windshield.
You can connect your iPhone or Android smartphone through your Chevy vehicle's USB port for smartphone projection. When you do this, your phone's apps will be visible on the Chevy MyLink® screen. This makes it easier to access your favorite apps, so you don't have to swipe around your phone while driving.
Chevrolet Projection 101: How to Use the Heads-Up Display
You will see a button marked HUD (heads-up display) on your dashboard, usually to the left of your steering wheel. Click it to turn on the heads-up display.
From there, you can hit the INGO button next to it to change the information it displays, and the button next to that to adjust the brightness.
Chevrolet Projection 101: Which Chevy Vehicles Come with a Heads-Up Display?
Many new Chevrolet vehicles come with heads-up display technology, but make sure you know all of the facts before you go into a deal. The following Chevy vehicles have a built-in heads-up display:
Chevy Camaro
Chevy Corvette
Chevy Silverado 1500/2500/3500
Chevy Suburban
Chevy Tahoe
Chevrolet Projection 101: What Will My Heads-Up Display Tell Me?
Your heads-up display will tell you different things depending on which Chevy vehicle you own. Typically, you can see your speed, audio info, phone info, navigation info, driver assistance features, and vehicle messages.
To find a solid Chevy vehicle with a built-in HUD, just shop at Woodhouse Chevrolet Buick!