A Rundown of the 2022 Buick Encore GX
Take to the streets and a stunning SUV that doesn't compromise on power, style, or luxury in the 2022 Buick Encore GX. The reliable engine, ample cargo space, and top-of-the-notch features seamlessly work together to make driving this vehicle an unforgettable experience.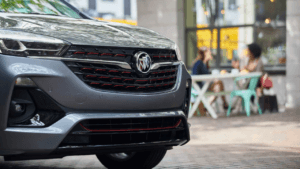 You can read about the amazing qualities of the 2022 Buick Encore GX all day, but the best way to know if it's the right car for you is to drive it for yourself. Come into Woodhouse Chevrolet and let us set you up with a test drive so that you can hit the gas yourself!
Stunning Specs
Let's start with what's cooking under the hood. The 2022 Buick Encore GX gives drivers the ability to choose between two engine types:
ECOTEC turbocharged 1.2-liter three-cylinder engine with 137 horsepower and 162 lb-ft of torque
Or
ECOTEC turbocharged 1.3-liter three-cylinder engine with 155 horsepower and 174 lb-ft of torque
Both options provide reliable power and speed for trips ranging from everyday commutes to longer road trips. Models may also come with the option to upgrade to All-Wheel Drive (AWD) so that you'll be able to handle slick streets and unexpected weather conditions.
One way to ensure that you get the most mileage out of your Buick is by upgrading certain parts when they become worn out after repeated use. Luckily, Woodhouse Chevrolet lets you shop Buick parts right from our dealership! Once those parts come in, we're also able to install them quickly and properly at our Buick service center.
Room For More
Packing light can be difficult, but you won't have to leave anything behind with the ample cargo space in the 2022 Buick Encore GX. On the inside, this SUV offers:
Up to 50.2 cubic feet of cargo space when the seats are folded down
7 inches of additional cargo height thanks to the cargo floor
Comfortable seating for up to five people
You'll be able to bring family or friends plus luggage, gear, or equipment, no matter the destination.
Once you're convinced the 2022 Buick Encore GX is for you, Woodhouse Chevrolet makes it easy to apply for Chevy financing before you even step foot in the dealership. The purchasing process for a new car can be a little intimidating, but we're here to make sure you don't have to go through it alone!