5 Questions to Ask Iowa Car Dealers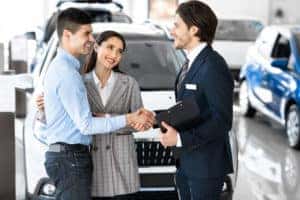 As your local Iowa car dealers, we get all kinds of questions from new car buyers and experienced buyers, too. And that's what we're here for – vehicle purchasing, servicing, and financing support. Here are five of our most popular questions and answers for your convenience. Come see today us to learn more!
1. How do I apply for financing?
Either in person or on our website! All it takes is a few minutes to provide your income and credit information so that we can determine what you qualify for in terms of interest rate, down payment, and more.
2. Should I consider a lease?
Depending on your financial and driving situation, that could be a great choice. Leases are a shorter-term commitment with low monthly payments for brand-new vehicle performance. It's ideal for someone just starting out or looking to give a vehicle an extended test try before buying.
3. Am I due for scheduled maintenance?
We can help you determine which services your car is due for. But generally, we should see you at our dealership at least two or three times a year for oil changes, tire rotations, and other upkeep.
4. What is shop-click-drive?
Essentially you pick your car, create your deal, and schedule your delivery. Complete your car shopping from home while socially distancing!
5.What is my trade worth?
Use the "value my trade" tool on our website and you'll know what your current vehicle is worth almost instantly.
Come on down to Woodhouse Chevy to chat more. Talking to our local customers about their vehicle purchase options really makes our day. We can't wait to meet you.